Certified, Insured, & Passionate About Safety.

First Time Inspections
Level 2 Inspection
We will evaluate the flue in terms of size and function. We use state of the art video equipment to examine the entire length of the flue. Without it a sweep is restricted to maybe the bottom few feet.
Sweeping the system is included as may be needed. Understand we want to do things in proper order. Video is done first lest sweeping erase important evidence. Sweeping follows. Sometimes a second pass with the video is done. Sometimes a deeper cleaning must be added before another pass with the video is performed.
Hard to get to areas, like basements, crawl spaces, and attics are examined for clearance to combustibles. We want to know if you are at risk from other's neglect. Top inspections are part of the Level 2 process, although steep roofs and tall chimneys may have an extra charge.
It all wraps up in a thorough report along with recommendations and valuations. It can be a bit technical, but we are available to help you understand it. Use the report for insurance claims, budgeting repairs, or dreaming your perfect fireplace experience.
What happens during a chimney inspection?
Our inspectors will look at your chimney for buildup of combustible deposits, obstruction, damage or any structural issues.
How often should your chimney be inspected?
According to the National Fire Protection Association, chimneys, fireplaces, and vents should be inspected at least ONCE A YEAR for soundness, freedom from deposits, and correct clearances.
Returning Inspections
Level 1 Inspection
Having done a Level 2 Inspection, we can provide regular services with only Level 1 inspections. Level 1 inspections use the baseline information gathered in the Level 2 inspection to evaluate how the system is performing. We enjoy visiting with our established clients, helping them with many questions about using their systems. Of course sweeping is included with the inspection.
Real Estate Inspections
Level 2 Inspection
We have a special service for real estate needs. This Level 2 has the same attention to detail as a regular level 2. However, since there are time constraints, a Real Estate Level 2 has more generalized recommendations and valuations. A proposal does not normally accompany a Real Estate Level 2. If one is desired it can be provided but, may not be ready for deadlines.
Buyers are always interested in having a Level 2 Inspection done. They want to be certain that there are no hidden dangers lurking in the system. Since more and more buyers are becoming aware of this standard, it is in the best interest of the Seller to get one done before putting the house on the market.
With a chimney system, damages are not necessarily a cause to lay out cash paying out of pocket. A Level 2 inspection gives the Seller to strong point from which to negotiate. If you are a real estate professional please be sure to specify which service (L2 or RE2) you desire.
What happens during a chimney inspection?
Our inspectors will look at your chimney for buildup of combustible deposits, obstruction, damage or any structural issues.
How often should your chimney be inspected?
According to the National Fire Protection Association, chimneys, fireplaces, and vents should be inspected at least ONCE A YEAR for soundness, freedom from deposits, and correct clearances.
Advanced Inspections
Level 3 Inspection
Whenever a Level 2 Inspection is not enough to determine the extent of damage or special condition.
This level of inspection encompasses concealed areas. Suppose your attic has a dividing wall that doesn't allow us to get to the chimney. Perhaps a strange material was used which needs to be identified. Maybe a chase needs to be opened to detect mold or verify correct installation. Any situation where the structure must be dismantled to obtain access is an occasion for a Level 3 Inspection. This level of inspection is not common. There is usually some special circumstance that calls for it.
Why is timing so important to repairing your chimney?
Moisture is the biggest enemy to a chimney. Whether the chimney crown is cracked or there is deterioration, moisture can cause damage to the masonry, lining, firebox, damper, ceilings and walls in your home and more. That is why repairing your chimney is a priority. Don't wait!

Repairs
The top seal is usually originally put on as a cement wash. Sometimes it is a concrete splay, or even a crown. You will want to visit our crowns page for more information. Most often the top seal has been done incorrectly leading to more severe problems. A cap consists of a metal cover for the flue. Ideally it has spark arrestor mesh (which also keep animals out) and is made of a durable material like stainless steel or copper. You will want to visit our caps page for more information.
Water / Acid Damage
Water entering through the termination (cap or top seal) can cause breakage in the body from freeze expansion. At the top of the chimney this is often the cause of damage, however, lower in the body damage is usually caused from acid activity stemming from inside the flue and presenting on the surface!
We are prepared to make repairs as slight as re-pointing, more involved like installing a crown, or quite involved like rebuilding portions. We can even start from scratch if wanted.
Other companies may give you a "free" estimate, but when the chimney has become damaged, the national standard requires a Level 2 inspection. Of course all of our new clients ask for this so we are able to correctly assess the cause of the damage and offer a lasting repair. Don't settle on an estimate "free" of inspection!
Chimney Sweeping
The Chimney Safety Institute of America (CSIA) recommends that you have your chimney inspected annually. The CSIA also recommends that the chimney be swept as often as each cord of wood burned. Some systems will need to be swept more often. Our certified technicians and mechanics will tell you if the chimney needs to be swept as well as inform you of any problems.
Our Methods ensure that your home stays clean. We respect your treasures and your pets.
How do you know if your chimney needs sweeping?
1) Burned wood odors coming from the fireplace when it's not being used. 2) Fires that seem to burn poorly or that dump a bunch of smoke into the room. 3) A black damper which sits right above the firebox..
The Stages of Creosote
1st Stage
The black powder everyone knows as soot.
2nd Stage
Over time with repeated heating and cooling soot becomes granular looking like black salt.
3rd Stage
Whereupon a long hot fire is enjoyed, the granules melt and form a tarry glaze. This form resists sweeping and needs to be removed chemically.
Poultice Creosote Removal
Sometimes creosote build up is so severe no amount of sweeping will get it out.
Poultice creosote remover is a caustic chemical in a clay support. It clings to the surface, dissolving and adsorbing the creosote. In the flue we use a bell to spread it on all surfaces and into the corner. In the smoke chamber PCR is sprayed in much like gunnite.
After time for the material to work and time for drying, the flue is power swept. If this was part of a level 2 Inspection then the video camera goes up again. PCR is an excellent remedy, however, it does not solve the cause. For that we need to address design and use.
The Right Fit
All combustion systems need some sort of venting (even vent-free, your house is the vent for those!) that means a chimney of a vent. New systems will have the venting installed with them, but we also take care of established systems. Masonry chimneys and metal chimneys often need to be updated. We are experts at re-lining and replacing chimneys. Whether you need a stainless steel liner for your terra cotta flue or a new class A chimney for your heater we have the solutions for you. Of course you will want to start with a Level 2 inspections, since that is the national standard of care.
Do stainless steel liners require insulation?
Liners used with solid fuel-burning appliances, DO need to must be insulated. While liners for oil and gas do not require insulation, it remains a good practice to improve clearance to combustibles and to improve draft and flow. One should consider it as an option.
Adding A New Fireplace
Priorfire Firebox Retrofit is a superior option for many open, wood burning, masonry fireplaces. It is a modern firebox liner engineered for greater combustion efficiency. That means it burns less wood to give you more heat. The firebox is tested and listed at Underwriters Laboratory for zero inches clearance to combustibles. That means pesky form wood that should have been removed can stay there. That eliminates the need for costly reconstruction of basement walls!
It also gives us the ability to use a smaller flue liner. Where available space in the chimney is at a premium, this solution allows us to provide zero inches clearance to combustibles for the flue.
Why should I consider a retrofit fireplace?
Fireplace retrofits are installed into an existing wood-burning fireplace and can reduce air pollution by approximately 70%.
Why is Keeping Your Fire Appliance Maintained Regularly so Important?
Your fire appliance is an important part of your home's net worth and your lifestyle. Extending the life for years to come is as easy as regular maintenance. In addition, safety is always an issue. Be sure your appliance is running safe and to factory standards.
All Brands All Models
We service all brands and models. As NFI Master Hearth Professionals we are trained to service appliances that burn wood, gas or pellets. We have Hearth and Home Factory training, however, that knowledge crosses over to other manufacturer's products. Whether your appliance only needs basic annual maintenance or deeper diagnostics we can provide you with solutions. Ask about virtual assessments!
Safety & Energy Saving
Fires originating in a clothes dryer vent are one of the leading causes for loss in the USA. No matter how fastidious you are with cleaning your lint filter, some always gets through. The humid air plasters that lint on the walls of your vent. If that were not enough critters like to make homes in the vent causing blockage. Let's not forget that the vent design itself may present inefficiencies that increase lint accumulation or simply increase drying time. Talking about drying time, a clothes dryer is an energy hog, the longer the time the more costly the load.
We use rotary brushes to scrub the entire length of the vent. Modern equipment like an anemometer and manometer help us evaluate how your system is performing. Having access to the best materials we can provide solutions from bird proof terminations to whole retrofits.
How do I know If My Clothes are Taking Too Long To Dry?
A load of cotton t-shirts should only take 20 minutes to dry. If your dry times are taking longer, then something is not right. Your system should be evaluated for design as well as cleanliness. A simple gauge can be added to help you know when cleaning is needed.
Service Region
We happily serve South East Pennsylvania and Northern Delaware.
Key
Light Green = Normal Service Area
Yellow = Extended area, travel charge may apply.
Dark Green = Outside our service area. Call to inquire about special arrangements.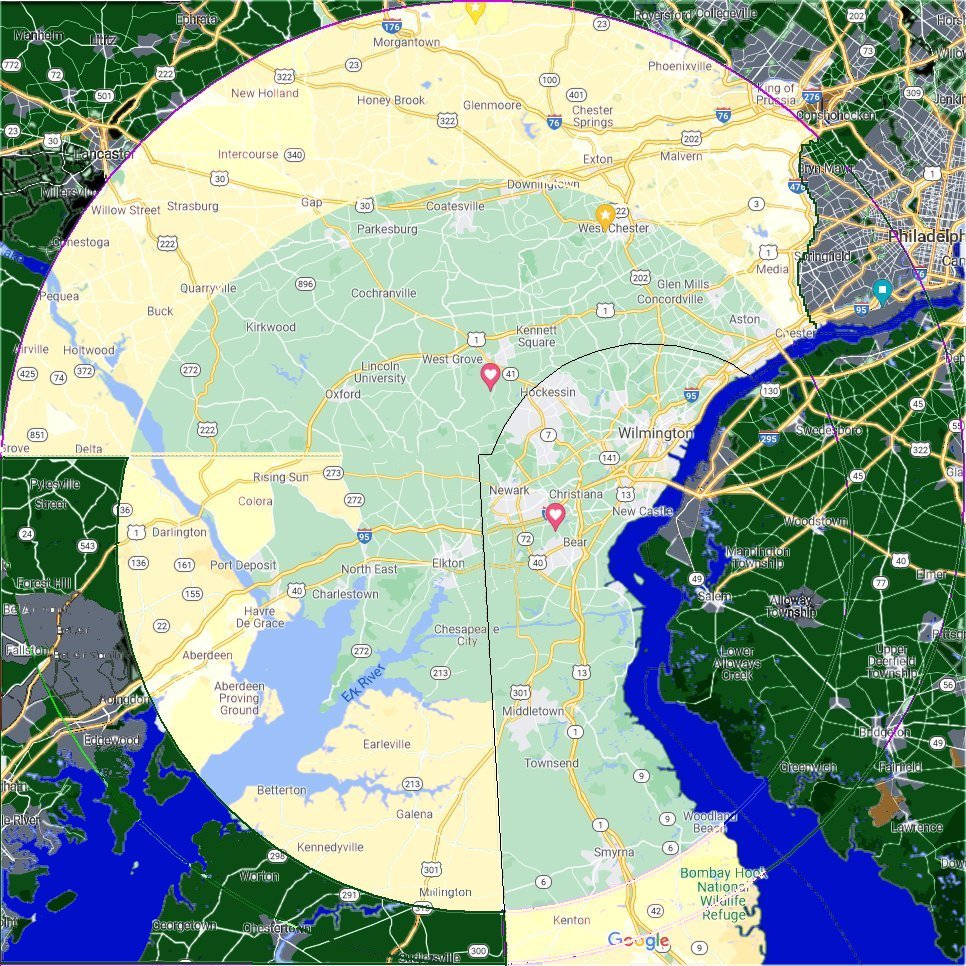 We take pride in our work and want the world to see. Click below to see our full portfolio!
We take pride in our work and want the world to see. Click below to see our full portfolio!